Get Started - A Random Selection of Photoshop Tutorials: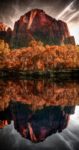 How to Use Photoshop to Mirror an Image – Red Giant | Photoshop Tutorials Welcome back to another one of my Photoshop tutorials! Today, I will take you with me to the Zion National Park, an amazing place located in Utah, USA. Here is the thing: I was there in bright daylight, so everything was evenly lit and looked great. There were several hiking trails and we (my buddy Luis and me) picked the longest one by mistake – which is why we had to run like mad to the car when it came to the closure of the car…
There is always more to come!
I hope some of my processing examples and quick tips were useful to you! Feel free to ask me any question, just write in the comment section of any post. If you like the videos, make sure to also subscribe to my youtube channel, it'd be great support. Catch ya later.