Get Started - A Random Selection of Photoshop Tutorials: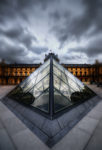 Using Photoshop to Create a Dramatic Scene – Example: The Louvre I am a massive fan of the Louvre! Inside and outside, hehe. When I was there recently I was kind of lucky getting a nice and cloudy sky which was mirrored in the glass of the small pyramid. Here is the final image: and here the original: Normally I would take 3 exposures and create an HDR image – in this case there wasn't enough light to justify the extra effort so I was very happy with just one. I tonemapped this one in Photomatix anyway, but just very…
There is always more to come!
I hope some of my processing examples and quick tips were useful to you! Feel free to ask me any question, just write in the comment section of any post. If you like the videos, make sure to also subscribe to my youtube channel, it'd be great support. Catch ya later.