My Favourite Photoshop Tutorials!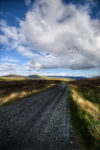 I am a big fan of simplicity. Some say its not very exiting – but I do love it so whatever, hehe. Sometimes a simple thing like a road with a cool cloud on top and some amazing Irish landscape can make an awesome picture. Here is the final version: And that was the original As I was stopping on the road, I did not have the time to take 3 shots. I used just one which, when used in photomatix, can be changed to look like a proper HDR done with 3 images. So thats how I did it.…
There is always more to come!
I hope some of my processing examples and quick tips were useful to you! Feel free to ask me any question, just write in the comment section of any post. If you like the videos, make sure to also subscribe to my youtube channel, it'd be great support. Catch ya later.