My Favourite Photoshop Tutorials!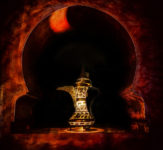 I recently went to a restaurant called Dada, a Moroccan restaurant in the hearth of Dublin. The place is quite amazing so I talked to the guys there and organised a day where I could come in and take some pics. This is one of the shots I got from there: The original was quite different, there you go: It was a little bit of a challenge to get it the way I wanted, but with some photoshop magic everything is possible. So thats how I did it. As it was a HDR, I loaded my 3 exposures in Photomatix…
There is always more to come!
I hope some of my processing examples and quick tips were useful to you! Feel free to ask me any question, just write in the comment section of any post. If you like the videos, make sure to also subscribe to my youtube channel, it'd be great support. Catch ya later.