Get Started - A Random Selection of Photoshop Tutorials: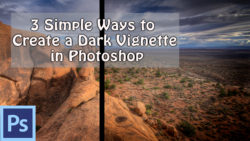 3 Ways on How to Create a Dark Vignette in Photoshop | Photoshop Quick Tip Welcome back! Today I want to show Photoshop beginners three techniques to darken the edges of an image, or how to create a vignette. This is great whenever you wish to place attention on the center of the image rather than having everything equally lit. You will see this being done in many images, especially landscape images – have a look next time you look at some, hehe. So, let's get started. Option One – Create a Vignette using the Camera Raw Filter (0:15 min) The…
There is always more to come!
I hope some of my processing examples and quick tips were useful to you! Feel free to ask me any question, just write in the comment section of any post. If you like the videos, make sure to also subscribe to my youtube channel, it'd be great support. Catch ya later.