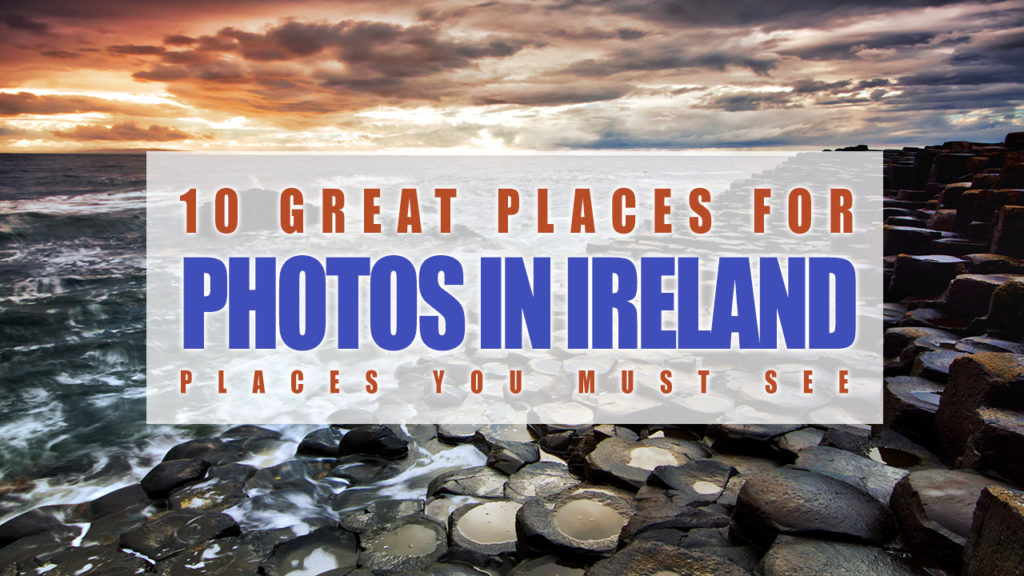 Ireland might be a small island, but it has much to offer for those that are looking for some great photos! In this post, I will show you some of my favourite spots that I think are great places for photography in Ireland – some more and some less common – to hopefully get you to pack your gear and visit! Note, there is no one guide that can show you all the places, but the more, the more ideas you can get for where you want to go!
If you are just getting into photography and Ireland is one of your first stops, awesome! Just in case, here is my guide to your camera. Or maybe HDR Photography? Whatever takes your fancy – enjoy!
1. Dublin Zoo
I know, a zoo does not sound super appealing. In the end, most major cities have it, right? True, but that does not make the Dublin Zoo any less amazing to visit with your camera. Besides, just outside of the zoo are groups of deer – if you are lucky and they are around, bring a carrot and get some great close-ups!
2. Glendalough
Glendalough is another one of the great places for photography in Ireland and is an area just outside of Dublin that you can reach with one of the usual tourist buses. You have a choice of sceneries there, ranging from a super old cemetery to an amazing lake, a hike through the surrounding hills and more. Definitely worth checking out!
3. Giants Causeway
The next on our list of great places for photography in Ireland is the Giants Causeway. Technically this is not in Ireland as it is in the UK part of the island, but for the sake of traveling and taking images, this place has to be on every list out there. It is rather unlikely that you have seen anything like this before, so be sure to join a day trip from Dublin.
4. Dublin City
This depends on whether you like to take photos in the city or not – but I love Dublin, especially at night. With a river splitting Dublin in half, you get many nice motives and reflections that make it worth it! Definitely one of the great places for photography in Ireland.
5. Carrick-a-Rede Bridge
Also located in the Northern Ireland, this place and surroundings kills two birds with one stone – get some Adrenaline going and get the awesome images! The bridge leads to a very small island, from which you can get some awesome sights onto the mainland. You will find yourself among a lot of tourists, but they make good models when crossing the bridge!
6. Wicklow Mountains
Located just outside of Ireland, the Wicklow Mountains offer a vast and wide landscape to explore. There is no exact point that I would recommend as driving through the Sally Gap road really makes it – but make sure to walk around and explore, you never know what you can find.
7. Lough Tay
This lake is also called 'Lake Guinnes' and is another great place for photography in Ireland that you can easily reach from Dublin. I don't think I need to say much else – a magnificent lake with a fantastic view, whats not to like?
8. The Dark Hedges
The Dark Hedges in the Northern Ireland are – in essence – just a road with some trees. BUT, these trees were grown in a specific way to lean into the road and form sort of a tree-tunnel. The place featured in movies and series (Game of Thrones, anyone?) – but it has a problem. Two actually – cars and tourists. As you can see in my image, it was near impossible for me to get a photo without people as I was there on a busy day – having said that, if you go early in the morning or at night you can get incredible shots. I have also heard that the road is now blocked for cars, but I have not been back to confirm yet.
9. Ross Castle
Ireland has many castles and ruins to offer, but Ross Castle is my personal favourite for photography. Located just next to water, you can get some pretty awesome shots! It is a tourist destination of course, so be prepared to wait a while for people to make space.
10. Literally Most Places Along The Coast
The thing is, if you travel through the country you will find many random spots that just look insanely beautiful! I can not even remember where exactly I took the above images, but I think it was partly around the Dingle Peninsula and around the north of Ireland. You can not really go wrong there, so make sure to check this part of the island out!
There are so so so many more places one could (and should) mention, but this shall be it for me for this post and the great places for photography in Ireland. Let me know in the comments what your favourite spots are and what amazing photography experiences you had in Ireland!
If you like my images and want to see more, head over to my portfolio! Interested in photo editing? Let me show you how I process my work on the good old YouTubes.