My Favourite Photoshop Tutorials!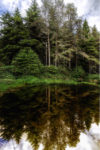 I found this neat little lake at the side of a road just half an hour south from Dublin, Ireland. It was raining all day and actually just stopped a couple of minutes when I took the image. Lucky me, hehe. Here is the final image: See more great HDR…
There is always more to come!
I hope some of my processing examples and quick tips were useful to you! Feel free to ask me any question, just write in the comment section of any post. If you like the videos, make sure to also subscribe to my youtube channel, it'd be great support. Catch ya later.