Get Started - A Random Selection of Photoshop Tutorials: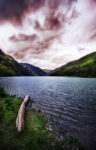 How to Use Photoshop to bring Magic into the Landscape – Example: Glendalough Todays image shows a lake about an hour south of Dublin, Ireland. This one was awesome to process in Photoshop, lots of colours and curves! Here is the final result: and here the original: To get the image I had to do a lot! using levels to make the greens in the foreground 'healthy' using curves to colour sky and water (and grass again haha) using layers to apply effects just to certain areas using high pass filters to do dodging and burning on the water clone…
There is always more to come!
I hope some of my processing examples and quick tips were useful to you! Feel free to ask me any question, just write in the comment section of any post. If you like the videos, make sure to also subscribe to my youtube channel, it'd be great support. Catch ya later.